Maryland Road Map
---
The scalable Maryland map on this page shows the state's major roads and highways as well as its counties and cities, including Annapolis, the capital city, and Baltimore, the most populous city.
Interstate Highway 68 on Sideling Hill in Western Maryland
Maryland Map Navigation
To display the map in full-screen mode, click or touch the full screen button. To zoom in on the Maryland state road map, click or touch the plus (+) button; to zoom out, click or touch the minus (-) button. To scroll or pan the zoomed-in map, either (1) use the scroll bars or (2) simply swipe or drag the map in any direction. (The scrolling or panning method you use will depend on your device and browser capabilities.) At any time, you can display the entire Maryland road map in a new window or print this page, including the visible portion of the map.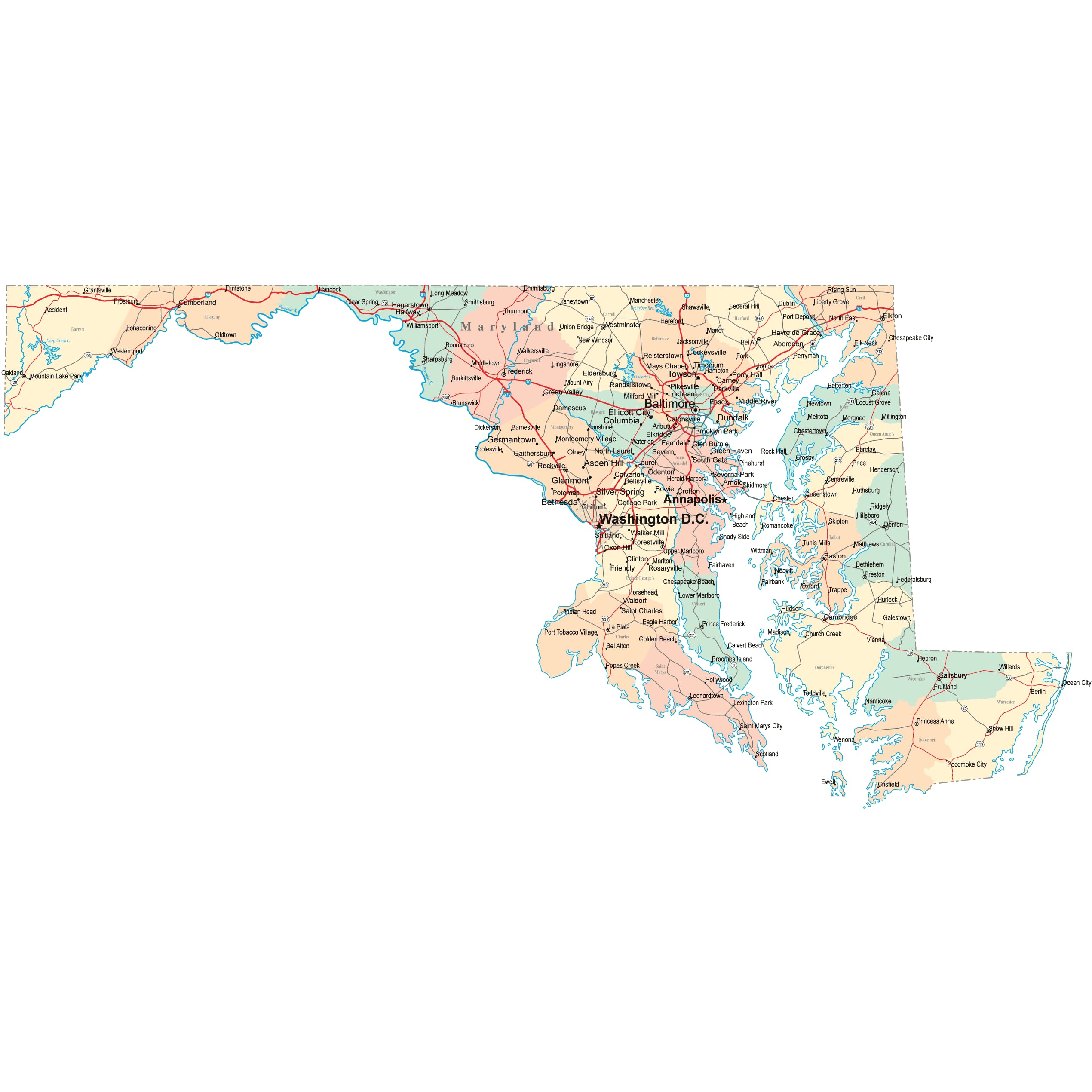 The following Map Legend and Scale of Miles apply to the road map on this page, at its largest displayed scale.
Maryland Map Legend
Maryland Map Scale Of Miles
Maryland Interstate Highways
Maryland's Interstate Highways connect its major cities and facilitate travel between Maryland and its neighbors. I-68 provides convenient access to the Appalachian highlands of western Maryland. I-70 runs northwest from near Baltimore, leaving the state at the Pennsylvania border, while I-83 runs north from Baltimore, also leaving the state at the Pennsylvania border. I-95 runs through Maryland from northeast to southwest, passing through Baltimore along its route. I-97 links Baltimore with the Annapolis area.
Maryland's auxiliary Interstate Highways serve the Baltimore, Washington, and Frederick metro areas. I-270 connects Frederick with Washington, DC's northwestern suburbs, while I-370 provides easy access to Gaithersburg and Rockville. Maryland's portion of I-495 encircles much of Washington, DC. I-695 encircles Baltimore, while I-795 provides easy access to Baltimore's northwestern suburbs. I-895 provides an alternate route through Baltimore, connecting with I-95 at its northeastern and southwestern termini.
Maryland Scenic Routes
The mountains of western Maryland offer a scenic road trip backdrop that is especially beautiful in the autumn months. Swallow Falls State Park and Deep Creek Lake State Park boast hiking trails as well as fishing and camping. The historic town of Cumberland is home to a national park that stretches all the way to Washington, D.C along the Chesapeake and Ohio Canal. Further east, travelers will encounter Antietam National Battlefield and the town of Frederick, which is surrounded by picturesque rolling farmland. More information about scenic roads in Maryland is available on this America's Byways: Maryland web page.
Maryland Road Travel Resources
Maryland's Eastern Shore and Chesapeake Bay islands are accessible via the Bay Bridge. For more information about Maryland's roads and transportation infrastructure, visit the Maryland Department of Transportation website. For Maryland road traffic conditions, visit the Federal Highway Administration's Maryland Traffic Information page.
---
Copyright © 2005-2023 State-Maps.org. All rights reserved.
Maryland-Map.org is a State Maps reference source.

Maryland Road Map
Maryland Travel Map - MD Highway Map